Homecoming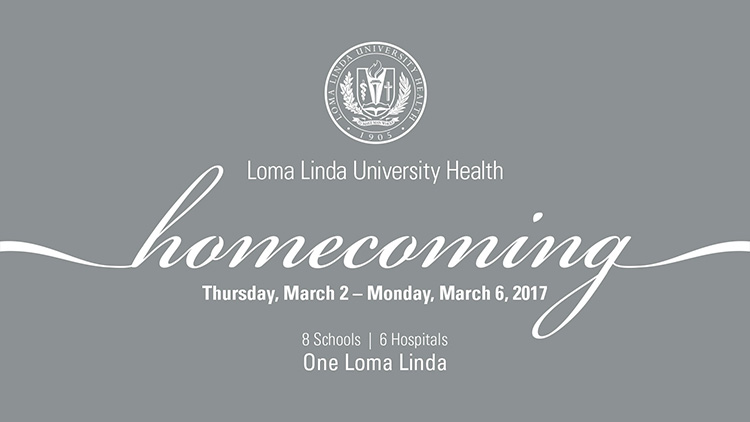 Together as One Loma Linda University
Thursday, March 2–Monday, March 6, 2017
Interdisciplinary CE Opportunities   |   Class Reunions   |   School of Nursing Homecoming Brunch
Message from the Dean
Greetings to the School of Nursing Alumni! As we enter our 112th year of nursing at Loma Linda University, we are blessed to celebrate an alumni family that has grown to 9,458 graduates. It is important to remember that this number not only represents the many generations of our past undergraduate and graduate students, but also the countless relationships and memories that shape our collective journey. It represents a chapter in the lives of our students that, through trial and triumph, brought their calling to fruition and prepared them to give compassionate and excellent nursing care wherever their careers took them.
We recently identified a new vision statement that perfectly reflects the purpose of our school: "Preparing Tomorrow's Nurse." This Homecoming Weekend, we look forward to reconnecting with you as a school and celebrating the shared experiences that have prepared each of you to be the nurse you are today. We look forward to seeing you in March 2017!
Sincerely,
Elizabeth (Becky) Bossert, PhD, RN
Dean, School of Nursing 
Schedule of Events
Loma Linda University School of Nursing

Homecoming – March 2-6, 2017

Registration
Wednesday, March 1 to Friday, March 3, 2017
West side of Centennial Complex
Thursday, March 2, 2017

Continued Education Courses – Centennial Complex

Homecoming Kickoff Celebration & Concert – Drayson Center
5 p.m. to 9 p.m.

Friday, March 3, 2017
School Tours – West Hall
1:00 p.m. to 4:30 p.m.
Sabbath, March 4, 2017

Church service – Drayson Center
9:00 a.m. to 11:45 a.m.

Haystack lunch – Drayson Center
12:15 p.m. to 1:30 p.m.

Loma Linda University, School or Nursing: Dessert Reception & Class Photos – West Hall
2:00 p.m. to 4:30 p.m.

Honor Class Reunions – Various locations
*Class representatives will be coordinating reunions and contacting honor class members

Sunday, March 5, 2017

Loma Linda University School of Nursing Alumni Brunch - The Mission Inn Hotel & Spa
10 a.m. to 12 p.m.
RSVP Today
Let us know that you're coming!
Please RSVP by Monday, February 20, 2017 to
Alumni.SN@llu.edu, or
909-558-4923
Monday to Thursday
8 a.m. to 5 p.m.
The brunch is free for pre-registered alumni plus one guest.
Cost for an additional guest is $36.
Check should be made out to "LLU School of Nursing" and can be mailed to:
LLUSN Alumni Association - West Hall
11262 Campus St.
Loma Linda, CA 92350