Global Nursing - News Briefs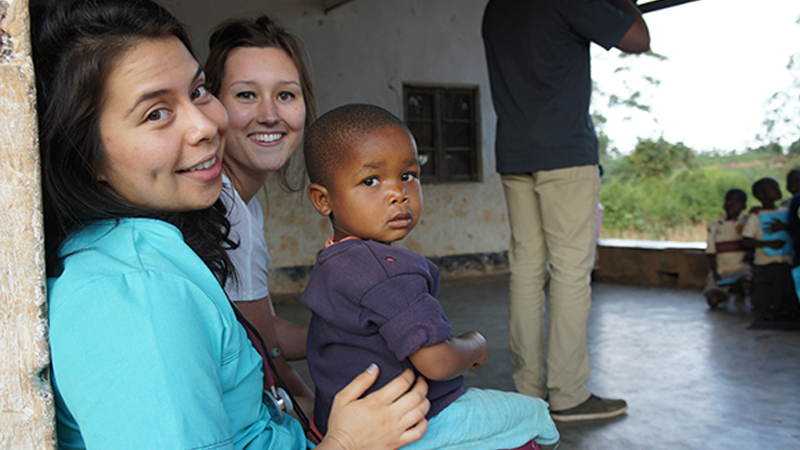 News Briefs
Jan Zumwalt, INC co-chair, receives the "West Lake Friendship Award" a high honor given in China to foreign experts for their contributions to the development of China.  Zumwalt is recognized for her 18 years of collaboration and consulting with Sir Run Run Shaw Hospital, traveling to China on more than 50 occasions.  
---
Pat Jones, INC co-chair, gave an update on the potential collaborative project between WHO and the General Conference of Seventh-day Adventists.  Representatives from institutions in Southern Africa Indian Ocean Division met with GC leaders in September to explore positive ways of partnerships with WHO. Read more.
Jones also attended the 2ndGlobal Alliance in Nursing Education & Science(GANES) conference in Virginia, USA, December 1-10.  GANES is sponsored by national nursing organizations from different countries, including the American Association of College of Nursing. 
Then in January Jones had the opportunity to give Loma Linda University presence in the Second Global Forum on Human Resources for Health held in Bangkok, Thailand where they reviewed progress and renewed commitment to strengthening the global health workforce.
Patty Radovich, LLUMC director of nursing research, spent 15 days in August in Sir Run Run Shaw Hospital where she delivered a 2-hour presentation on nursing research.  SRRSH's nursing administrative agenda is to put a top level  administrator to oversee research initiatives.
Lisa Hulse, graduate of LLUSN, is currently serving as a volunteer in Ile-Ife Hospital working with Samson Popoola (The Chief)from Sept. 2010 thru 2011. Her mission is "compassionate nursing quality care" and will focus on pediatric intensive care.
Dolores Wright, LLUSN faculty, conducted a workshop on "Evidence-based working practice" at the Adventist University of Indonesia's School of Nursing's 25th anniverary on August 13-15.
Coming Onsite...
Jin Jinhua, RN, from SRRSH, China; Jan.11-Mar.9
Zheng Xiaoping, RN from SRRSH, China; Mar. 29-May 25
Kanlaya Chanprasert, RN, from Thailand; Mar. 29-May 25
Fang Haiyun, RN from SRRSH, China; Aug.12-28
SRRSH Becomes the First Certified Primary Stroke Center in China
In January of this year, the Sir Run Run Shaw Hospital (SRRSH) receives the Joint Commission (JC) primary Stroke Center Certification which makes SRRSH Stroke Center the first JC certified center of its kind in China, a joint team effort of the last 3 years among APN XiuXin of SRRSH, Dr. Uffindel and Joanna Yang of the Loma Linda University Medical Center Dept of Neurology, and the Mayo Clinic Neurology Department. Yang attributes this success largely to the SRRSH administration by providing the necessary support which led to Hospital's success in passing the JC Stroke Center survey in Dec. 2011. 
Stroke is a no. 1 cause of death in China, and a JC certified stroke center is a milestone in improving stroke care in China.
Plans for a nursing conference for October, 2012 in Sir Run Run Shaw Hospital (SRRSH) is underway. Poised to capture Magnet Status, the Hospital is directing efforts to bring the staff up to Magnet standards.
Satterfield wins LLU 2012 Global Servce Scholarship
The theme of my life has been Proverbs 3:5 & 6--a parent-to-child admonition: "Trust in the Lord with all your heart and lean not on your own understanding; in all your ways acknowledge Him, and He will make your paths straight." 
For nearly ten years I had the privilege of volunteering in mission-oriented services. I've traveled extensively throughout the United States and to seven different countries, where I witnessed privation, I could never have imagined. Though I was content in working as a lab instructor to freshman biology majors, I knew God's plans for me were greater than I could fathom. He was calling me to the medical field to become a mission nurse. With nothing but faith and the assurance of Divine leading, I packed whatever I could fit in my Honda Insight, and made the 2,000- mile journey from Huntsville, Alabama to the doors of Loma Linda University School of Nursing, West Hall. The classes were challenging, the culture different, and I was far from home, yet God continued to show Himself faithful. 
In July of 2011, I received an email from the president of Loma Linda University, Dr. Richard Hart, about the Global Service Scholarship (GSS). The GSS provides opportunities to non-medicine and dental student to serve as long-term missionaries overseas. Instantly I knew this was an answer to prayer and I began the application process. Prior to my enrollment at Loma Linda, I asked if the school provided mission scholarship opportunities for non-medical or dental majors. There was none. However, this did not deter me for I was certain God would open a way for me to do His bidding as He saw fit. He did.
I am humbly grateful that God saw fit to choose me to be a recipient of the Global Service Scholarship. This provided me the amazing opportunity to represent and reflect the values of the Loma Linda University School of Nursing, my church, family, and, most important, my God. It is also a symbol of a fulfilled promise and calling God has placed on my life. I am ecstatic to see what is in store. I may not be able to change the world but, I offer myself to Him, trusting that He will work through me to change lives.
Written by Julie-Anne (Jewel) Satterfield
Senior- LLU School of Nursing undergraduate
GSS volunteer project: Blantyre Adventist Hospital in Malawi or Kanye SDA Hospital in Botswana, for at least 12 months
Career goal: Pediatric Nurse Practitioner, missionary
Ultimate goal: To prepare as many people as possible for the soon coming of Jesus, through the healing ministry
LLUSN International Off-campus Master's Degree program
In response to the global need for nursing faculty, Loma Linda University School of Nursing offers an off-campus master's degree program outside of the United States to prepare international nurse educators to teach in their home countries following graduation.
The program is designed to serve nursing education programs within the global Seventh-day Adventist education and health care systems. Nurse educators from other systems are also welcome, particularly from countries where graduate education for nurses is limited. 
The program is offered at minimal cost to the institutions and individuals served. Loma Linda University School of Nursing obtained external funding to cover faculty travel, books, and living expenses, and waved the tuition costs. Students and/or institutions pay a small fee to cover their travel and miscellaneous expenses. The first cohort of 23 students met each year for four years on the campus of Mission College (now Adventist Pacific International University, APIU) in Thailand to meet the needs of countries in Asia. The second cohort of 20 students met in Argentina and South Africa to meet the needs of students in South and Central America, Eastern Europe and Africa. A total of 43 students representing 24 countries graduated in 2008 and are filling leadership positions in their home countries.
The current off-campus program is coordinated by Dr. Edelweiss Ramal, associate professor at LLUSN with a cohort of 28 students, and again is offered in Thailand on the campus of APIU. In this cohort students come from 4 continents and represent 17 countries. As with the previous two cohorts, the students and faculty meet one month each year for four years. After the four weeks of instruction, students complete assignments and submit them online. Instruction in the off campus program is done by the same faculty who teach that content on-campus at LLU. This means the faculty travel to Thailand each year, live on campus with the students, and teach intensively. Face-to-face engagement of the faculty is deemed highly important to demonstrate role modeling, and promote student interaction and collaboration.
The students' satisfaction with the program is evidenced by their commitment to making a difference in nursing education in their respective countries. Individual student comments regarding positive changes in their lives, worldviews, and practice as educators have endorsed the success of the program. Faculty also report that their lives are changed as a result of the significant enrichment from cross-cultural involvement and the gratification of helping to meet the global need for nursing faculty.
I like the motto of ADRA, "Changing the world, one life at a time." That is how we are going to have to do it here. We may not be able to change the whole nursing department, but if even one nurse has learned a better way, it will be worthwhile.--Twyla Gimbel, nurse educator, Afghanistan, 2005-2008