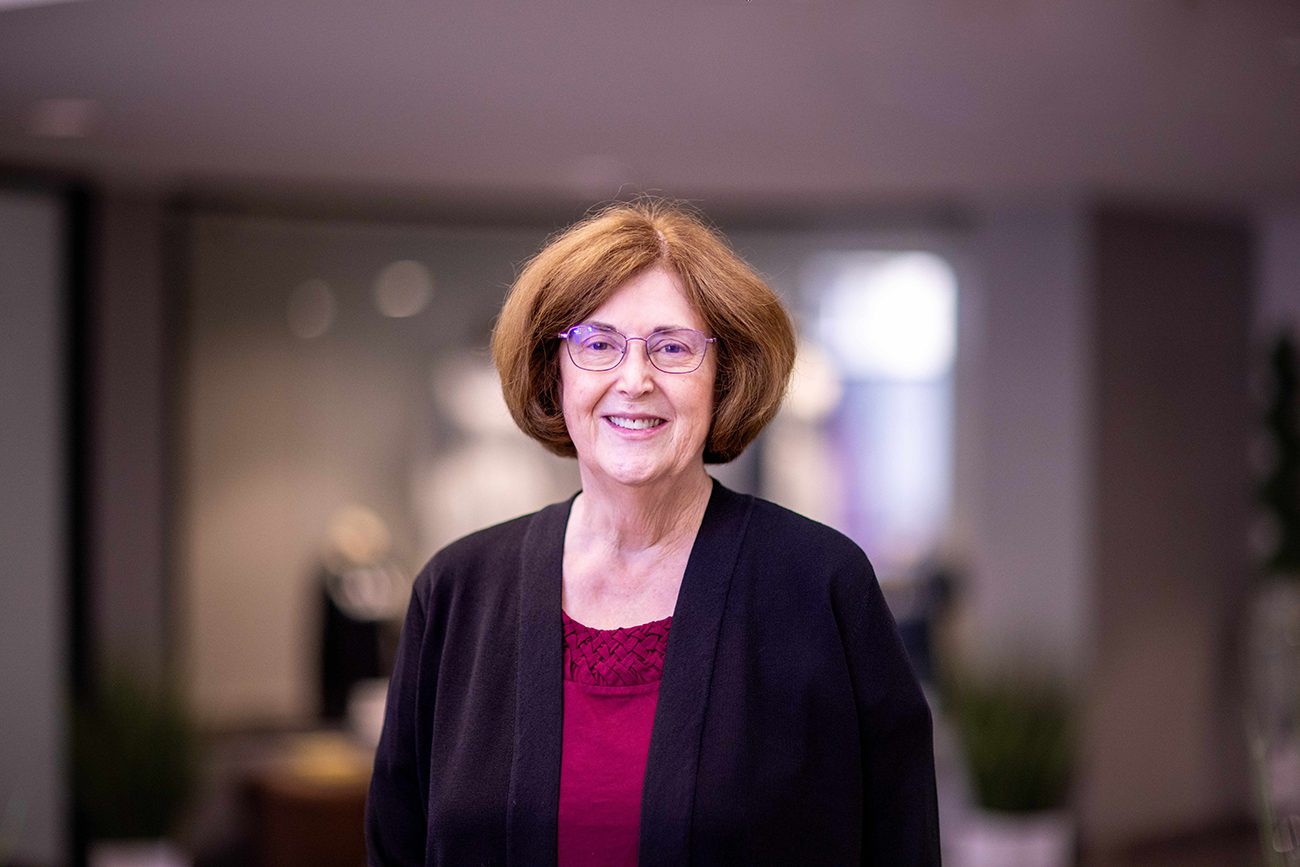 By alofthouse - November 14, 2022
Elizabeth Bossert, PhD, RN 
Dean of the School of Nursing, 2015 to 2022 
Following God's leading 
Elizabeth Bossert is confident that her 44-year career at the School of Nursing, which culminated in her eight-year tenure as dean, is a result of trusting and following God's plan for her life. Dr. Bossert led the School of Nursing as its dean from 2015 to 2022. While she was dean enrollment expanded, with over 800 students currently enrolled in its bachelor's and master's and doctoral degree programs. 
Dr. Bossert's nursing education began at Pacific Union College in Angwin, California, where she completed her AS degree. She went on to complete her BS degree in Nursing at Walla Walla College. 
Her introduction to Loma Linda University came when she was accepted into the master of science degree program at the School of Nursing in the mid-1970s.
At the time she applied to the program she was a member of Pacific Union College's (PUC) nursing faculty and was teaching on the college's Glendale campus. Her first two years of teaching nursing reinforced her decision to pursue education as a career. 
PUC offered to pay for her master's degree if she agreed to continue teaching there after she completed the program. "I decided not to accept their offer," she says. "I am uncomfortable with a long-term plan as it does not leave flexibility to adapt as God leads." Her decision gave her the freedom to remain at Loma Linda when she was asked to join the School of Nursing faculty. "It was just one of many doors that God opened in my life," she says.
In her master's program Dr. Bossert focused on maternal-child nursing and teaching. She completed the MS program at the School of Nursing in 1977. 
Dr. Bossert joined the School of Nursing faculty in 1978, teaching pediatric nursing in the School's undergraduate program. She continued working at the School until her retirement in 2022, leaving only when she moved to San Francisco to pursue her doctoral degree at University of California San Francisco (UCSF) in 1987. 
At UCSF, her studies focused on research and parent-child nursing. She completed the doctoral degree program at UCSF in 1990. 
When she returned to Loma Linda in 1990 Dr. Bossert again taught Pediatrics in the BS program for several years, and gradually began teaching in the School's graduate program. The courses she taught included parent-child theory, research, and advanced role development. Her research focused on children's responses to hospitalization and illness, pain and other symptoms experienced by children with cancer.  
During her time as a faculty member, she was a part of a research team that included Lois Van Cleve and Marilyn Savedra. Together the team secured two RO1 grants from the National Institutes of Health, National Institute of Nursing Research. Her research was published in numerous refereed journals. She also served as reviewer for the Journal of Nursing Scholarship, the Journal of Pediatric Nursing, the Journal of the Specialists in Pediatric Nursing, and Pediatric Nursing.
In 2005, Dr. Bossert was named associate dean of the School, and director of the graduate program. This role continued for nine years, until Marilynn Herrmann, dean from 2005 to 2014, retired.
On December 15, 2014, Dr. Bossert's appointment as the sixth dean of the School of Nursing was announced at a special luncheon on the Loma Linda University (LLU) campus. After the announcement was made, Ron Carter, PhD, LLU provost, said, "Becky is no stranger to administration. She has helped us in so many central committees. She has been the assistant chair of the university academic affairs committee. We've worked together on a number of research projects. She's had many hats." 
Dr. Herrmann worked with Dr. Bossert as faculty member and then more closely after she became associate dean for the graduate program. In January, 2015, Dr. Bossert began her leadership as dean. Dr. Herrmann notes, "She was well qualified. She didn't call me very much; she encouraged others and led by asking 'what would you do?' That's a good sign that someone is confident, a servant leader."
During her deanship, Dr. Bossert worked to fulfill a promise in the Dean's message on the School's website: to cultivate an environment that helps students develop to their fullest potential. It was important to her to create a place where faculty could also continue to grow to achieve their fullest potential. 
As she worked with young faculty, she recognized the challenges they faced as they considered both career and family. As they progressed in their careers, she made it a point to listen while encouraging them to define and pursue their goals.  
Bonnie Meyer, MS, RN, retired assistant professor of nursing, a long-time faculty member, became director of the School's Academic Center for Excellence (ACE) at the same time Dr. Bossert became dean. "I appreciated how she always showed interest in hearing updates/progress reports about the ACE department," she says. "Dr. Bossert was always pleased to hear about our successes. She was encouraging of new ideas to improve the department and when we faced challenges, she was willing to discuss them and help problem solve." 
Dee Hart, PhD, RN, emeritus associate dean, observes, "Dr. Bossert often gave of her precious time to listen thoughtfully when a faculty member or a student requested counsel regarding a difficult problem or challenging situation. She genuinely and carefully considered the issues involved and quietly but firmly described her decision. You could depend on her to be honest in her opinions, advice and counsel."
She continues: "I believe the caring support during a challenging time makes students want to try harder and Dr. Bossert cared about the students. A few times she and I had to meet with students who weren't doing well in school or who had gotten themselves into some kind of difficulty. Dr. Bossert was honest about the consequences, while showing compassion and support toward the student." 
Drawing from her experience studying at UCSF, Dr. Bossert mentored colleagues. Dr. Herrmann recalls that when she was pursuing her doctoral degree at Claremont University: "Becky offered to share her own dissertation with me to use for a guide. This was very helpful. It provided perspective from another institution, and I was confident I wasn't missing anything." Dr. Bossert also assisted Dr. Dee Hart. "Dr. Bossert willingly shared her knowledge and personal experience with me through my doctoral dissertation experience," she says.
International work
Responding to the growing number of international requests in the areas of education and consulting, the School's global outreach programs that had begun when Dr. Helen King was dean expanded, providing opportunities for Dr. Bossert to travel internationally. She taught courses in the School of Nursing's off-campus degree program on three continents: Asia and South America and Africa. The program was designed to provide advanced education to nurses, nurse educators and administrators who were working at educational institutions around the world. When the fifth cohort finishes, more than 140 international students will have been awarded degrees from Loma Linda University. 
As growing numbers of nurses have completed School's off-campus degree program, their influence is being felt at clinics and hospitals operated by the Adventist Church. "President Richard Hart has shared that while traveling internationally, he meets leaders in Adventist educational and health care organizations who are graduates of the program. The graduates of the program are making a difference around the world."
In addition to teaching courses in Argentina.  Thailand and South Africa, Dr. Bossert's educational, professional, and research activities at the School of Nursing took her to Australia, China, England, Ireland, and Peru.
During her tenure as dean, educational programs were developed to meet contemporary needs of nursing. While she emphasizes that a team was responsible, programs that formed and grew under her leadership include the BS/MS to PhD program, the Doctor of Nursing Practice Program, the Pediatric Nurse Practitioner and Psychiatric Mental Health Nurse Practitioner Programs, and the Clinical Nurse Specialist Programs.
Meaningful interactions with faculty often took place outside of formal meetings. Dr. Bossert made it a practice to walk through the halls at West Hall and if a faculty member's door was open, she would ask if the person had a few minutes to share about their course. "Some of the most meaningful conversations took place during those times," she says. 
"Dr Bossert made herself available to faculty both by making rounds regularly and stopping by offices to chat," says Barbara Ninan, EdD, RN, retired associate dean, undergraduate program, "and by making time for faculty to schedule appointments with her if they needed more time to share concerns and/or ask for guidance on a particular topic." 
Today's nursing students are being well prepared as they develop the knowledge and skills to use their voice to impact patient care, she says. Nursing education is transitioning to competency-based learning: flipping the classroom with students arriving in class prepared to discuss how to apply the information to patient care.
The profession has come a long way from 1900, Dr. Bossert muses, when the following statement was published in the first issue of the American Journal of Nursing: "The nurse is an intelligent machine to do what the physician directs." 
Interprofessional education is encouraging nursing students to consider the interplay with other disciplines in patient care as they interact with students from the Schools of Medicine and Pharmacy, modeling real-life communication that will happen in the hospital setting. 
Looking forward, Dr. Bossert is confident that each of the school's programs have the potential to accept more students, and to grow. "With growth comes the need for space," she says. "Careful planning has kept us focused on where nursing is going," says Dr. Bossert. Her experience and insight will continue to help shape the School's path, as appropriate situations arise. For example, she has been asked to join the School's Alumni Board.    
President Richard Hart, MD, DrPH, says, "Dr. Bossert's long career at Loma Linda has always exemplified a life of commitment to this institution and to the profession of nursing. She has guided the School of Nursing through unprecedented growth and a continuing impact on the world by its graduates." 
In national professional meetings over the years, Dr. Bossert was impressed by world renowned institutions' interest in Loma Linda's worldwide network. "God is leading the School and the University," she says. If we remember that the organization isn't ours, it's His, Loma Linda will thrive." 
In her retirement, she is looking forward to spending time by the ocean. While she anticipates many other adventures, she doesn't feel pressured to set goals right away. I'll take it a day at a time," she smiles.