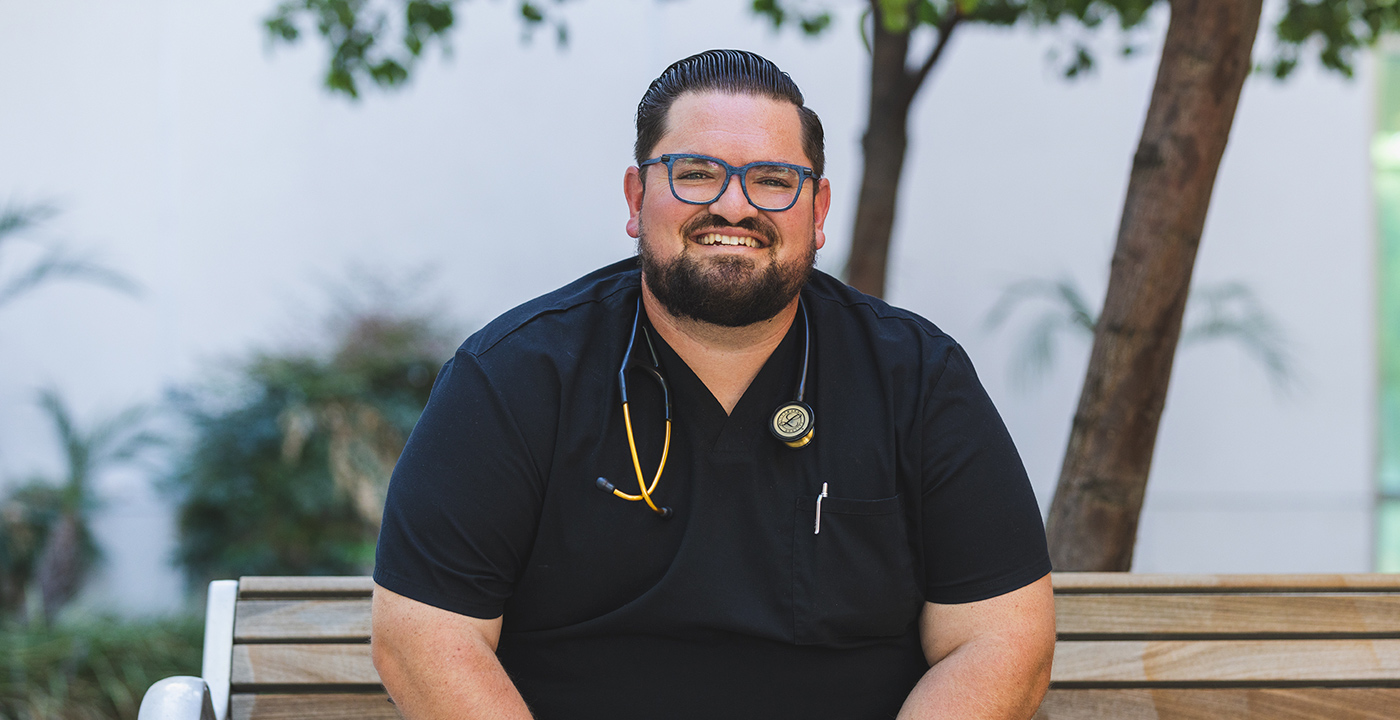 By ssledge - June 27, 2023
by Brianna Bolaños
Coming from a family of five boys, Nolan has long known the value of a close-knit family and having their support. As a young child, he would walk around his home with his doctors' kit, assessing and checking on each member. "I grew up helping care for my cousin who was born with a developmental delay and I also helped care for my great grandpa who had had three strokes. This is where my nursing life began. I had my Nana, who was a nurse, to look up to. I saw how much of a positive impact she made, so I decided to follow in her footsteps."
When Nolan started college at Riverside City College, he received his associate's degree in science and mathematics. Soon after, he followed his medical passion and went to Northwest College and received his LVN license. "When I began practicing in 2016, I found that being a nurse is truly what God wanted me to do, and I loved it." While working as an LVN, Nolan also worked at a restaurant, where he ran into some current Loma Linda University School of Nursing students. They encouraged him to apply to LLUSN for his BS. Having always admired LLUSN, Nolan decided he wanted to be part of the LLUSN legacy.
Spring of 2019 started Nolan's LLUSN journey. "I am so blessed and honored to have been able to attend Loma Linda School of Nursing. Every day of nursing school was a challenge. I quickly learned that there were some amazing teachers who genuinely care about you. They call you to make sure you're ok if there's a day you seem off. They also teach not just from their hearts, but from their experiences, their love for their patients, and from their love for nursing."
From parent...
During Nolan's second quarter at LLUSN his son was sick with life threatening RSV and was admitted to LLUMC. On his breaks between classes, he would run over to LLUMC to be with his wife and son. He attended study groups to not get behind, and slept in his car in the hospital parking lot some nights to be close by. During this time, Nolan credits Professor Lisa Hanson for being his support. "One mentor that I look up to the most, and I am so thankful that God brought her into my life, is Lisa Hanson. Lisa allowed me to call her and ask questions whenever my wife and I were worried. We would send her videos of my son's breathing to know whether we needed to go back to the hospital once he was home. She put on extra study sessions from her home computer, to make sure we all understood the information when we were confused and stressed out."
...to patient...
And then, COVID-19 hit the world, and it changed everything for LLUSN students. While still able to maintain clinicals, courses shifted to online. Gone were the in-person tutor opportunities and the after-hours white board study sessions. Students took care and precautions in all areas to be sure that their patients received the best care but that they also went home safe to their families. "COVID-19 is a sick, cruel, unbiased, and unforgiving monster, and it changed my life forever. I worked in the hospital doing my clinical shifts for almost a year when COVID swept the world. We were finishing our fifth quarter which composed of Adult Health 3, and I ended up contracting COVID. After nearly a year of caring for patients with this virus, washing my hands vigorously, and wearing my PPE, I got COVID from a family member at Thanksgiving in 2020."
COVID 19 was life-threatening for Nolan. Waking up in the middle of the night with his heart fluttering, his wife called for an ambulance to take him to the emergency room. Nolan was diagnosed with COVID induced pneumonia, where his oxygen saturations were in the mid 80's and his ability to exchange oxygen was fading fast. "I counted every breath and I prayed to God to help me. I asked Him for his breath. I asked Him to help me get home so I could kiss my wife, and I could hold my boys. I told Him that I still had so much to give and I had so much work left to do for Him. He held my hand, He watched over me, He gave me strength, and He gave me breath." The hospital workers were understaffed and exhausted. "I am so thankful for their dedication to their trade and the pledges they took as healthcare providers. I learned so much about not only myself and how precious life really is, but God showed me how hard it is to be in that hospital bed. He opened my eyes to how important it is to be that shining light in my patients' darkest hours." Nolan felt the support of his teachers and especially his classmates during this time. His classmate, Mike Zapatosky began a prayer group for Nolan. "Mike was there for me and my family and reached out to my wife to help be the bridge between her and the school when I was hospitalized with COVID induced pneumonia. He was so selfless. He even helped me prep for my state boards months after he had already passed them. We still hang out today and I foresee us being friends for many years to come."
...to professional.
Nolan graduated and proudly walked the stage at LLUSN in the Spring of 2022. He was recently hired at the Loma Linda Children's Hospital Pediatrics Emergency Department. Nolan shared, "I am so excited to get this journey started, but I am nervous because I take care for these children very seriously. I have my beautiful wife, Staci Lynn, and our three boys Russell, Dean, and Reid. Our lives are crazy and hectic, but we cherish every moment we have together. I feel so blessed to have been given this opportunity at LLUMC, and hope to someday continue to give back by becoming a Family Nurse practitioner."