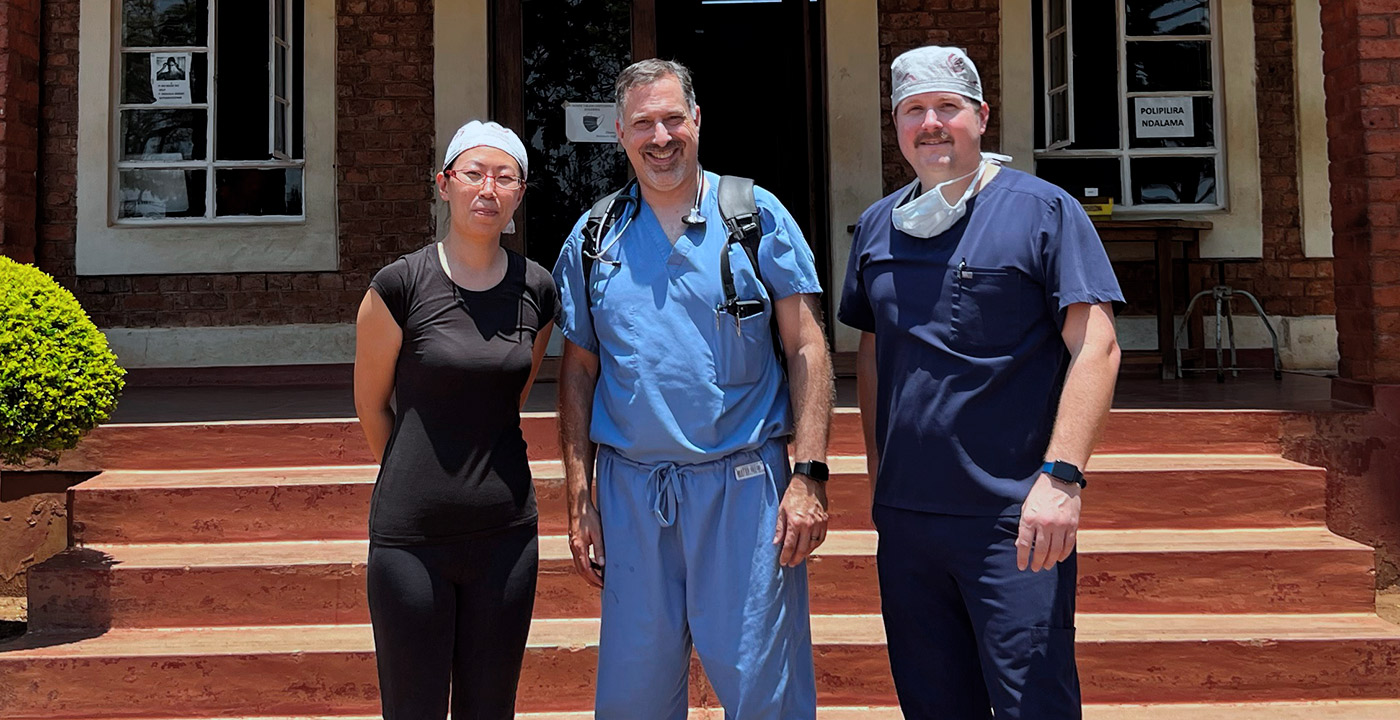 By ssledge - June 27, 2023
by Brianna Bolaños
The Doctor of Nursing Practice degree program of the Loma Linda University School of Nursing, Nurse Anesthesia Concentration offers a didactically front-loaded, 39-month, full-time graduate curriculum designed to educate critical care registered nurses in the nurse anesthetist role across the lifespan. LLU's program began in 2011 as a MS, CRNA program and transitioned to a DNP in 2018. Currently the program accepts 18 students each Fall for the following year. Upon completion, graduates are able to exercise advanced levels of clinical judgment, systems thinking, and expanded responsibility, as well as become accountable for planning, implementing, and evaluating evidence-based strategies.
Service has long been ingrained in the history of Loma Linda University School of Nursing and the CRNA students have embraced this specifically. They have chosen to emulate Jesus as a core part of their curriculum through mission trips. The mission of the CRNA program is, "…dedication to professional excellence, compassion in clinical practice, education and research, while furthering the healing and teaching ministry of Jesus Christ through commitment to whole person care and Christian values."
In 2012, LLUSN began offering missions trip opportunities specifically for CRNA students. "I think the primary reason mission trips were started comes back to the foundation of who LLUSN is. We are here to serve others. Participating in an anesthesia mission trip is a way to use the skills and training God has given us to help others in need. It also helps students think outside the box while delivering anesthesia in austere environments where they don't have access to all the drugs and equipment they have in developed countries," shares Dr. Shawn Collins, Dean of Graduate Studies, PhD, DNP, CRNA, FAANA. Students currently have the opportunity to travel to Valle De Angeles in Honduras and Malawi, Africa.
Student Karin Nercissian spent time in Honduras in July 2022. When asked about choosing LLU and her inspiration to pursue missions, Nercissian shared, "I chose LLU because not only is it a faith-based institution, but its core values closely align to my own; values such as humility, emphasis on teamwork, and whole person care deeply resonate with me. From being treated at LLUMC after a horrific car accident to eventually working here, I feel a compelling sense of warmth in this environment" shares Nercissian. "I had wanted to go on a mission trip for a while, and as soon as I saw that LLU incorporates international service opportunities into our academic curriculum I knew it would be the perfect opportunity. I see mission trips as a way of modeling Christ and serving others the way He did. It allows us to fully trust God while we stretch beyond our comfort zone and accept the challenge of being in unfamiliar settings with limited resources."
Dr. Eric Molina, DNAP, MSNA, CRNA, Assistant Director, Director of CRNA Admissions, leads the trip every summer to Valle De Angeles, a small city about a 1.5 - 2 hour bus ride from the capitol city of Tegucigalpa. "We are supporting our otolaryngology physicians who are performing surgery in a rural area at Hospital Adventista Valle de Angeles and we see anywhere from 80-100 surgeries a week. These trips allow for our students to develop in many ways that force them to think outside the box and utilize minimal equipment while delivering safe anesthesia care."
Alexander Honore, graduating from LLUSN CRNA in December 2022, just came back from Honduras in July. "I had heard from other alumni that the mission trip opportunities are very good clinical experiences because you are working with inferior equipment and fewer options of medications than what we have here in the United States, so it will greatly improve your anesthesia skills and comfort level. But I was also really inspired to be able to take my trained skills to an area that is severely underserved and give these people the opportunity that they may not have had without our help," says Honore. "This experience greatly improved my abilities and comfort in the operating room and I know it did for my colleagues as well. I would definitely like to join this group of medical professionals again once I am a licensed anesthesia provider in the future."
The cases that come into Hospital Adventista Valle de Angeles and Malamulo Adventist Hospital, are often life-changing for the patients. With little access, and few opportunities, "Some that particularly stand out to me are the pediatric patients. We have performed 3 tracheal surgeries on pediatric patients that allowed them to permanently have their tracheostomy removed," says Molina.
Nercissian reflected that many of the cases were personally impactful: "I was able to provide anesthesia for pediatric and adult patients undergoing a variety of surgeries, including tonsillectomy, thyroidectomy and advanced airway tumor debulking cases. I can recall a very distraught mother who drove over six hours to bring her young child in for a unique airway issue. I was able to talk to them regarding the anesthesia aspect of the surgery. I assured them that we were there for them, and I prayed to God to guide our hands in our work. The gratitude and relief she shared with me was truly remarkable. She burst into tears while thanking us for our service because there was nowhere else that she could go. It was in that moment I realized we were truly making a difference in peoples' lives."
"We went with some ENT surgeons from LLU to provide specifically ENT surgeries. Dr. Eric Molina brought myself and three other CRNA students, Kim Gnuschke, Josh Toppenberg, and Karin Nercissian. We were there to provide anesthesia services for 3 operating rooms so the ENT surgeons could perform their procedures. One specific story that stood out was a 7-year-old girl that had a mass on her vocal cords and it hurt her to speak. And she was so brave walking into that OR with almost no fear, she hopped up on the OR table and she didn't seem scared at all. After she was induced with anesthesia, the surgery was performed successfully without any issues. It felt good to be able to be a part of this little girls' journey to be able to speak without discomfort and live a more normal life," says Honore.
Dr. Vanessa Jones-Oyefeso, DrPH, MSNA, CRNA, Program Director/Assistant Professor hopes that this becomes a long-standing tradition for future graduates. "It is an honor to serve the global community and for the students to hone their anesthesia skills in international settings." The faculty and students hope that these stories will inspire others to do similar work in their communities.