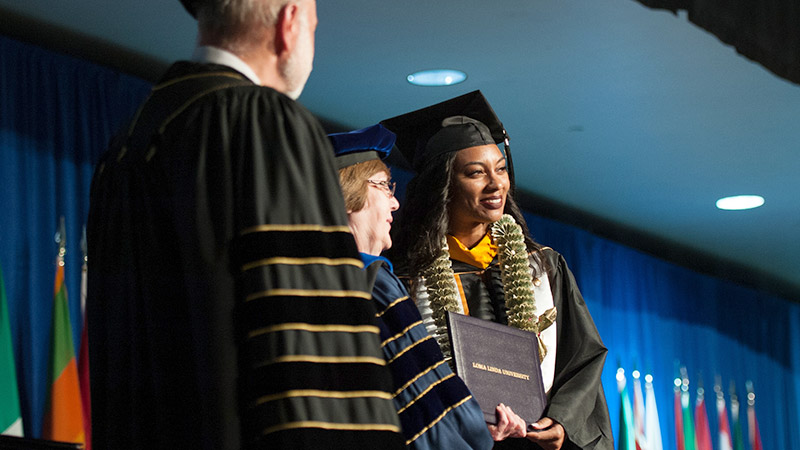 By wc@@@ - June 14, 2017
The final two commencement ceremonies of 2017 conferred degrees upon 17 graduates from Loma Linda University School of Religion, 280 from the School of Nursing and 107 from the School of Behavioral Health on June 11.
Diverse fields, but a common theme emerged at the baccalaureate service the day prior as one graduate from each school shared his or her insights learned while studying at Loma Linda University: readiness for careers of service, enabled by Heaven.
"We are good enough to do the job that God has called us to do," said Alix Chen, who earned a master of arts degree in bioethics from the School of Religion.
Similarly, said Gabriela Navarro, "He has prepared you for whatever you're about to encounter." She graduated with a master's of social work from the School of Behavioral Health.
Nursing graduate Leroy Henry, who earned his bachelor's degree, said, "I was never alone on this journey, and I honestly believe I would not have made it to this point without divine intervention."
"Truly we are so proud of you," said Provost Ronald Carter, PhD. "You are prepared to serve mankind."
School of Religion and School of Behavioral Health commencement ceremony
Graduates of these schools shared a combined ceremony, during which commencement speaker Daniel S. Sandy, PhD, MPH, exhorted them to take an intersectional approach to their life's work and mission via partnering with people of different backgrounds and experience.
An attitude of openness to learn from others, rather than the mentality of sole authority, Sandy said, will accomplish more to solve the world's growing problems — and lead to a more fulfilling life.
"Focus on seeking ways to enhance empowerment," said Sandy, who is president of the Sierra Leone Conference of Seventh-day Adventists and program manager of the Adventist Development and Relief Agency Sierra Leone-USAID project.
He is also the 2017 Alumnus of the Year for the School of Behavioral Health, where he earned his PhD in family studies in 2015. The school honored him for his exemplary service and promotion of behavioral health, including his efforts to improve primary health care in undeserved areas of Sierra Leone following the Ebola outbreak of 2014-2016 in West Africa.
Other awards bequeathed on graduates and faculty of the School of Behavioral Health were:
• President's Award: Serena Stevens, PhD, 2017 graduate with a PhD in clinical psychology
• Dean's Award for Master's Degree Programs: Gabriela Navarro
• Dean's Award for Doctoral Degree Programs: Laura Stiel
• Distinguished Service Award: Terrence Forrester, MS, professor emeritus in the School of Behavioral Health
There were three awardees from the School of Religion.
• President's Award: Ryan Marais, 2017 graduate with an MA in bioethics
• Dean's Award: Caroline Flanders
• Lifetime Service Award: Gerald Winslow, PhD, director of LLU Center for Christian Bioethics and professor in the School of Religion
School of Nursing commencement
Commencement speaker Patricia Benner, PhD, welcomed the class of 2017 into the world of nursing, which she called the "most wonderful, diverse and at times terrifying profession." Benner is professor emerita at the University of California at San Francisco's School of Nursing.
A career in nursing exponentially increases the capacity to care for others and an understanding of the incredible resilience, hope and strength of mankind, Benner said.
But she also warned the graduating nurses to avoid the temptation of getting lost in "the grandiosity of the rescue" by remaining aware that they, too, are vulnerable and finite. The nurse's focus should be on providing care, not the talents of the caregiver, Benner said.
Our common humanity, she finally said, should be remembered in showing mercy, curiosity and conscientious communication.
Qualities of service, academic excellence and innovation were lauded in a number of graduates who received awards during the ceremony.
• President's Award: Janelle Warren, 2017 graduate with a doctorate in nursing practice
• Dean's Award, Undergraduate Degree: Rachel Tohm
• Dean's Award, Graduate, Master's Degree: Sandra Edpao
• Dean's Award, Graduate, Doctorate of Nursing Practice: Stephanie Keeth
• Dean's Award, Graduate, PhD: Shaunna Siler
• Dean's Award, Faculty of Graduate Studies: India Medley, PhD recipient
Additionally, the school awarded the Lifetime Service Award to Maxine Darling, MS, retired operating room supervisor at Loma Linda University Medical Center and a 1960 graduate of the School of Nursing. Faculty and students responded with a standing ovation.