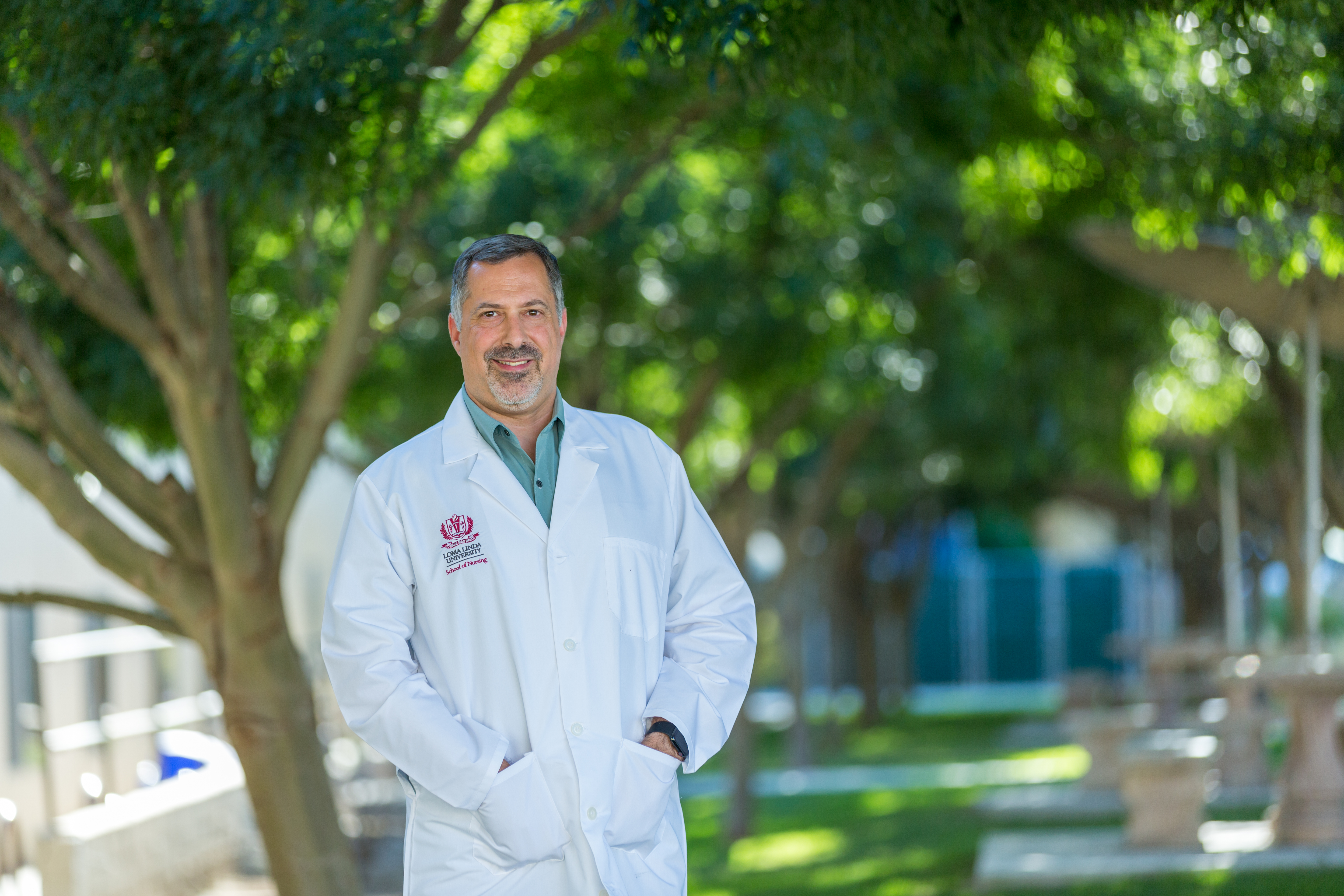 By Janelle Ringer - October 29, 2019
Shawn Collins, PhD, DNP, CRNA filled the role of new associate dean for academic affairs and graduate studies for Loma Linda University's School of Nursing, becoming the only male dean for a Seventh-day Adventist nursing school in the United States. Collins hopes to educate the next generation of nurses, while also shattering the stereotypes of men in nursing.
Collins has been a nurse for 30 years, with his mother and grandmother serving as nurses before him, providing him valuable insight into the job. "I see the climate of the profession changing," he said. Not only are more men entering this female-dominated field, but as nursing continues to develop as a profession, Collins said greater emphasis is being placed on theoretical frameworks and research. "This has led to greater importance on critical thinking, leadership training and advanced practice roles," Collins said. "These benefit our communities as healthcare changes and economic pressures increase."
As Associate Dean for Graduate Studies, Collins will support two Master's tracks — one for nurse educators and one for nursing administration — and a PhD program. The school also currently offers eight clinical doctorate tracks. "Most programs are in high demand," Collins said. "Student outcomes are excellent with very high pass rates on all programs that require a national certification exam, which is absolutely a reason to be proud."
Collins' outlook for the future of the program involves collaborating with community and clinical partners. "Building on the foundational relationships of those who came before me is key to taking advantage of those growth opportunities," he said.
The Christian atmosphere at the school is one thing Collins sited as a refreshing attribute. "Coming from a public university environment, I had to walk a tightrope when it came to talking about Christian values," he said. "I gained insight and experience with demonstrating those values, rather than overt expression."
One of the challenges Collins said he's prepared to face in the role is strengthening the relationships with clinical sites. "The School of Nursing Programs are in high demand, and in an era where an emphasis is placed on growth, the key to that growth is building relationships with clinical partners so there is space for those students," he said.
The hard part of a leader's job is not the tasks that need to get done, but human interactions, Collins said. "I always have this at the forefront of every interaction — demonstrating you care, and listening, are key to success," he said.
Collins seeks to be the type of mentor who people can look to for years to come. He credits Margaret Faut-Callahan, a CRNA who served many years as the director of Rush University's Nurse Anesthesia Program, as one of his greatest mentors, saying she influenced his decision to work in the field of nursing. Faut-Callahan also served as Dean of Nursing and then Provost at Marquette University, and now as Provost for all Health programs at Loyola-Chicago. "As an advisor for both my DNP and my PhD Dissertation, she has always pushed me to do my best, never settling for less than nursing deserves, while also being a rock of knowledge."
Prior to accepting the position, Collins served as the director of a nurse anesthesia program at Western Carolina University (WCU) for 13 years. Collins started the Doctor of Nursing Practice program at WCU, serving as its first director, and has maintained his clinical practice as a CRNA through his entire tenure. His practice as a CRNA over the last 24 years has included open heart, trauma, OB/GYN, general and orthopedic type procedures. Most of this has been in all-CRNA critical access hospitals in rural areas.
"If someone is considering a masters or doctorate in nursing, I would tell that a key for the future of healthcare is advanced practice nursing," Collins said. "If you want to advance your career while providing bedside care for patients, an advanced degree in nursing is for you," he said. Once you have decided on advancing your career, you will need to decide on a practice focus or a research focus. Regardless of which you choose, Collins said you will be serving others in an advanced role for the profession consistently named as the most trusted profession. "The bottom line is there is no good time," Collins said. "Take the leap!"
"We are here to be the hands of Jesus Christ, from a caring profession of nursing, to make you whole — not just physically — but by providing spiritual and mental care as well."