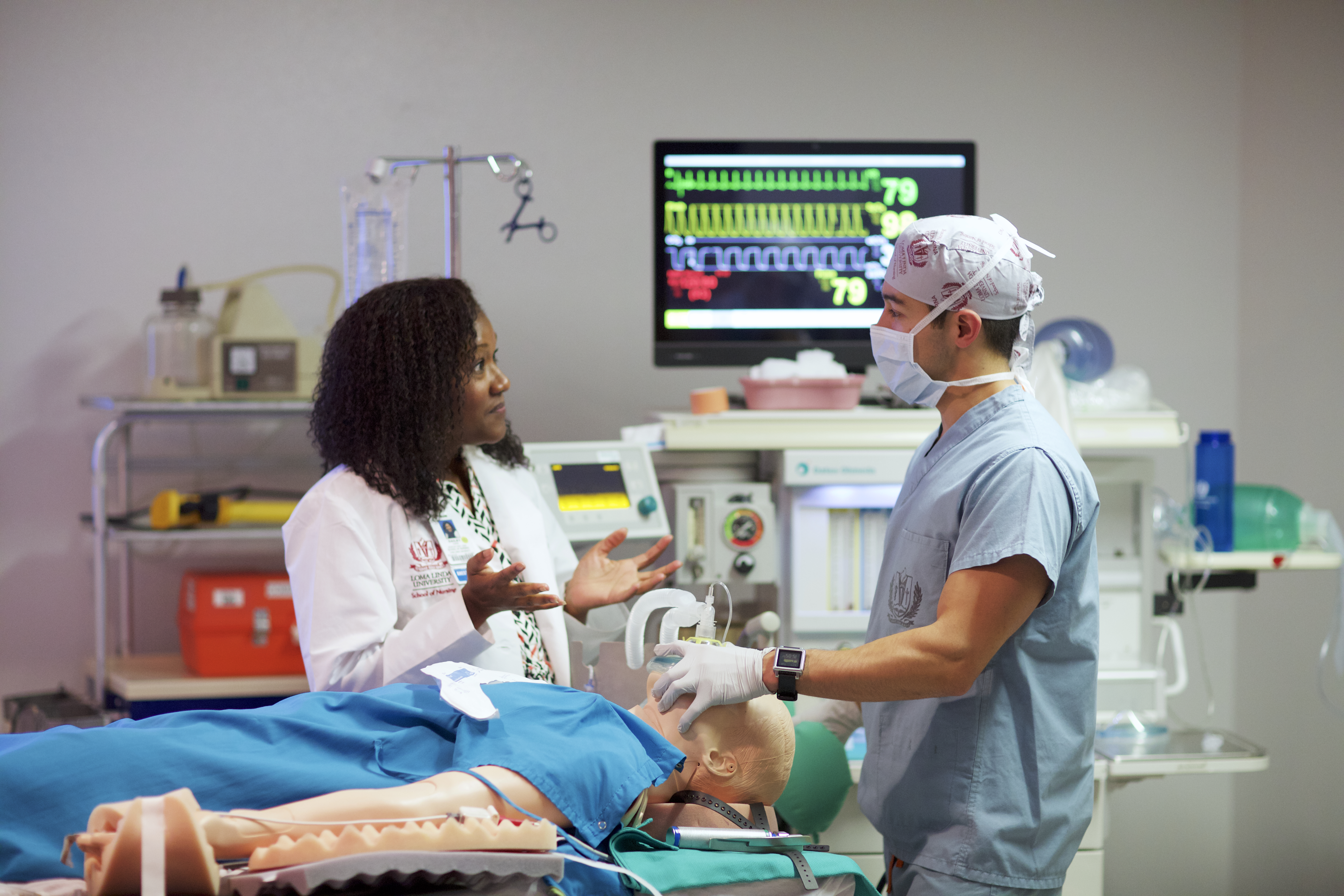 CRNA Program - Frequently Asked Questions
What is the application process?
Complete the online application:
Go to www.llu.edu/apply
Click "Application Login" Button
Click "Start an application (and create a new Login ID)"
Complete and submit the online application
Pay application fee
After you have submitted, check back within 48 hours to complete the CRNA questionnaire.
It is the applicants responsibility to make sure that all documentation is submitted and received by LLUH before the program deadline.
Only applicants with completed applications will be considered for an interview.
The Nurse Anesthesia Admissions Committee (NAAC) will review all completed applications and invite selected candidates for an interview.

Attend personal interview with the NAAC Interview Panel.

Applicants selected for admission will be notified via email.
When an applicant has been offered a position at LLUSN, information regarding how to complete the acceptance process and pay the confirmation deposit will also be included.

Still have questions? Contact Jorge Diaz at 909-558-4923 ext 82443 or graduatenursing@llu.edu
Do all applicants get an interview?
No. The Nurse Anesthesia Admissions Committee (NAAC) will review all completed applications and invite those for an interview who meet the criteria.
I have my Bachelor's degree in an area other than nursing. Can I apply to the program?
A Bachelor's degree in nursing from an accredited school in the United States or equivalent from another country is required for acceptance.
Are there any pre-requisite courses that I must take prior to admission?
No, we calculate your science GPA based on the classes that were taken prior to BS in Nursing program and a few classes during your program. There are no pre-requisite classes for our program.
How many students do you admit into your program each year?
The program admits up to 18 students per cohort.
How many years of R.N. experience are required?
Minimum 1 year, full-time critical care (all intensive-care units) RN experience (in the U.S.) at time of matriculation (excluding orientation) is required. Experience is evaluated on an individual basis.
Do I need a full year of critical care work experience prior to admission?
Yes, you can apply to the program while employed in the critical area and will have the necessary one year of full time experience prior to matriculation.
Do I have to be a member of the Seventh-day Adventist Church to be accepted into the program?
Can I attend the program on a part-time basis?
Due to the Lock-step nature of the program's curriculum, part-time enrollment is not permitted.
Who should I speak with regarding the application process?
Contact: Jorge Diaz at 909-558-4923 ext 82443 or graduatenursing@llu.edu
Will I be able to work during the program?
Due to the rigorous nature of the nurse anesthesia program, employment is discouraged. To promote patient safety and student wellbeing, the student is not permitted to work within ten hours of the start of a clinical shift. The program forbids the employment of students as nurse anesthetists by title or function while enrolled in the program.
If I am accepted into the program, will I be required to make a deposit to hold my position?
The confirmation deposit is $2,500 and will be credited toward the students tuition.
Do the students choose their regular clinical sites?
Assignment of students to clinical rotations is made at the discretion of the program administration and is guided by the availability and needs of the clinical sites and each student's knowledge, ability, and existing case requirements. It is the desire and intent of the administration to rotate each student in order to attain every available experience. However, clinical affiliations can be created, modified, or canceled at any time, making each student's clinical rotation experience unique.
Will I have to travel out of town for clinical sites? If so, where?
With the following exceptions, clinical sites are within driving distance (25-60 miles) of Loma Linda University:
Housing is provided at the following locations:
Naval Medical Center San Diego
St. Helena in the Napa Valley of Central California
Adventist Health Bakersfield in Bakersfield, California
Adventist Health Hanford Hospital in Hanford California
Kern Medical Center in Bakersfield, California
Housing and rental car provided at the following location:
Kettering Medical Center in Kettering, Ohio
Note: clinical affiliations may be created, modified, or canceled at any time.
How do I spend time with a CRNA (Certified Registered Nurse Anesthetist) observing cases?
Clinical observation with a CRNA is recommended but not required at this time. Due to COVID-19, observation opportunities are not available at Loma Linda University Health. You may do your clinical observation at another facility.
Do you hire CRNA graduates at LLUH?
Yes!
If you are a CRNA graduate and are interested in employment at LLUH, please contact:
Bryanna Baroi, MBA
bbaroi@llu.edu
909-651-4001 (ext. 14069)